DOUBLE SIDED LAPPING MACHINE
HOME > PRODUCTS > DOUBLE SIDED LAPPING MACHINE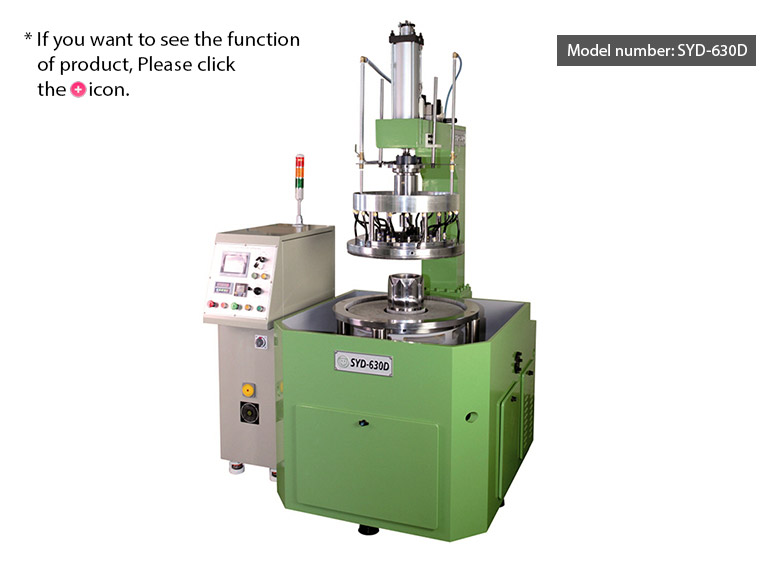 Pneumatic Cylinder : quick up down is available with auto pneumatic system
Load Cell : Able to see the current pressurization and efficient to process the thin object.
Thickness Controller : Automatic numerical thickness controller can process within tolerance of 0.005mm.
3Way Drive : Able to control the upper/bottom wheels and the inner gear in each direction.
BODY : Less vibration and high durability with the casting structure in one body during the process.
Control Box : Able to control the RPM, pressure and direction of the wheels.
Features
1. Strong body structure
2. Multi-stage pressure setting for each product
3. Automatic system
4. Pressure checking with load cell
5. Continuous working by introducing thickness measuring sensor
6. Minimized loading time with pneumatic system
7. Providing options and methods necessary for lapping


Model

SYD-630D

SYD-850

Wheel Size(O.D×I.D×T)

ø637×ø235×50

ø850×ø360×60

Wheel Width

201

245

Revolutions per
minute/horse power of motor

Upper wheel

0-80rpm/3.7kw

5.5kw

Lower wheel

0-80rpm/3.7kw

5.5kw

Sun gear

0-80rpm/2.2kw

Carrier Specifications

P.C.D=228.6 Z=108,
Dp=12, 9"×5pcs

P.C.D=283.6 Z=134,
Dp=12, 12"×5pcs

Machine Size (WxLxH)mm

1150×1300×2434

1150×1300×2560

Machine Weigh(kg)

4,000kg

4,500kg

Power Supply

220V 3ø, 11.3kw

220V 3ø, 15kw

Maximum Size of Workpiece

ø150

Ø200

Range of Application

SYD-630(850) is good for lapping most of materials including steel.

▶ Metal: cast iron, tool steel, carbon steel, hard metals
▶ Ceramic: alumina, SiC, Si Ceramic
▶ Glass: sapphire ▶ Quartz ▶ Ferrite
▶ Soft polished products like aluminum, copper, brass, etc